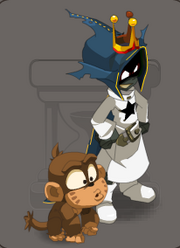 Knavery is the fast levelling one of the duo of Villainy and Knavery. This is owed largely to the fact that Knavery is a Wisdom/Agility build. Knavery is a rather splendid level 180 Xelor, the long time companion of Villainy; a 192 Sadida.
Knavery has many goals and not the patience to complete most of them.
Wisdom Scrolling (What wis Xelor doesn't have it scrolled?!).
0/101
Ad blocker interference detected!
Wikia is a free-to-use site that makes money from advertising. We have a modified experience for viewers using ad blockers

Wikia is not accessible if you've made further modifications. Remove the custom ad blocker rule(s) and the page will load as expected.